︎︎︎︎
Print Design
Featured Projects
2017 — Present
It is an interesting challenge to illustrate one's work in a single, printed document. And yet, the effective communication of that work is essential when engaging community members, stakeholders, and funders. It requires a cohesive understanding of the work itself, a target audience to communicate the work to, and defined takeaways with which an audience seeks to engage.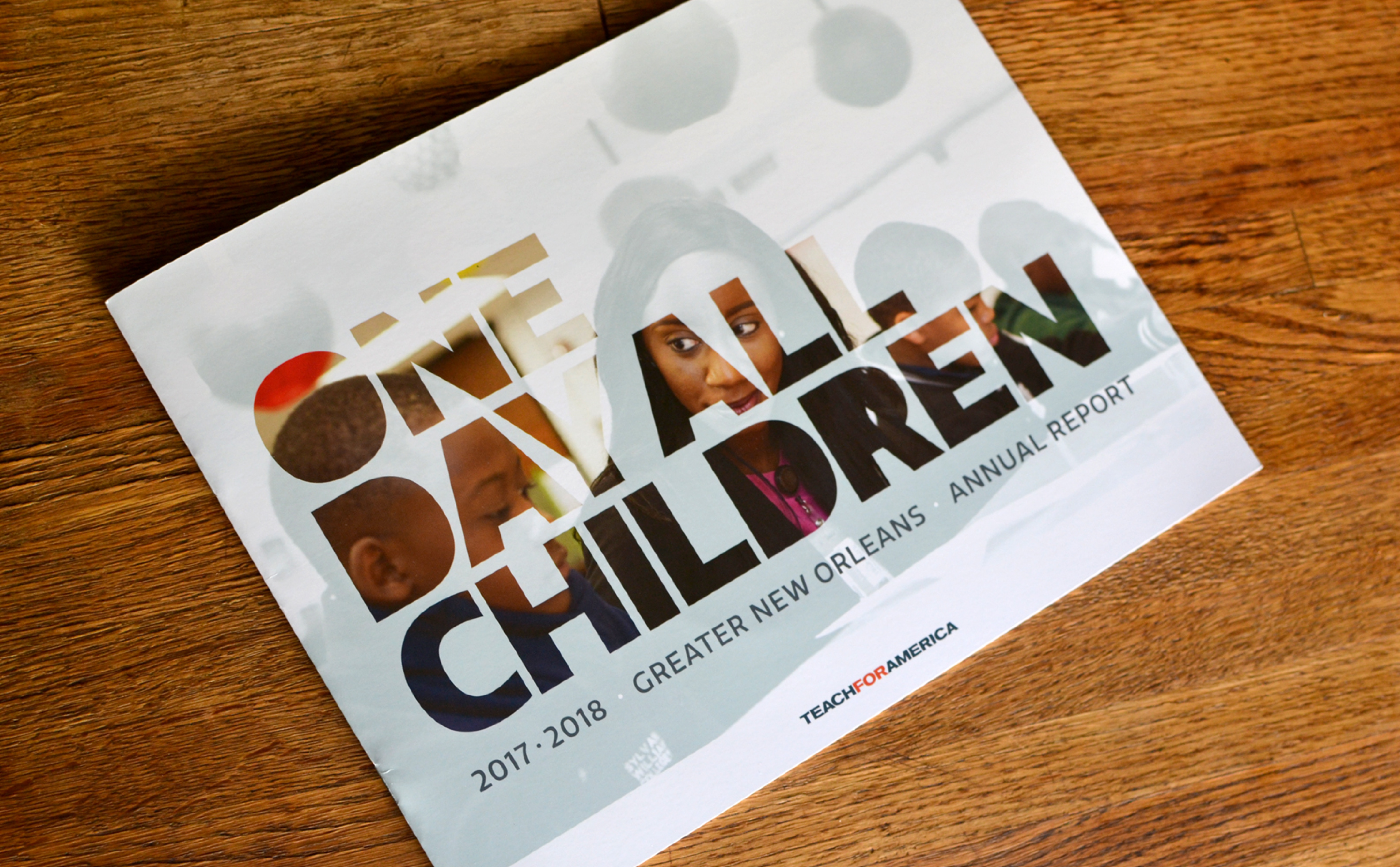 ︎︎︎︎
Teach For America
2017-2018 GNO ANNUAL REPORT

Teach For America finds outstanding leaders who commit to expanding educational opportunity, beginning with at least two years teaching in an under-resourced public school. Working shoulder-to-shoulder with students, educators, and community members, corps members go beyond traditional expectations to support the academic and personal growth of their students. The impact corps members have in the classroom fuels a lifelong commitment to their students and shapes the trajectory of their lives and careers.

︎︎︎︎
College Beyond
College Beyond helps New Orleans youth enroll and succeed in college -- the connective tissue between students, families, high schools, and higher education. They leverage the power of relationships to guide students through the academic, social, and financial transition from high school success to college persistence. Through college partners, College Beyond coaches work directly with new college students and families to set freshman year goals and learn the ropes of college success. Any Pell-eligible, freshman from the Greater New Orleans region who attends a partner college is eligible to participate.




︎︎︎︎
IOOKinIO
100Kin10 unites the nation's top academic institutions, nonprofits, foundations, companies, and government agencies to address the nation's STEM teacher shortage. Together, they are tackling systemic challenges and getting 100,000 excellent STEM teachers into classrooms nationwide. By giving STEM teachers the support they need, 100Kin10 helps to educate the next generation of innovators and problem solvers.
About Bernie January
Designer + Educator
Co-Founder | Heartsleeve
Co-Creator | YEP Design Works
Partner | The GOOD Shop
Born a mile away from the Atchafalaya River in South Louisiana; the proud son of a big-hearted logistics oil man from Cameron, LA and a fearless, radio reporter from Yogyakarta, Indonesia.

Lives in New Orleans, LA with, the
love of his life, Natasha Noordhoff.
Additional Contacts
Heartsleeve
myheartsleeve.com
The Good Shop
1114 Josephine St.
New Orleans, LA 70130