︎︎︎︎
Product & Retail Design
Featured Projects
Love Y'all | Burgundy & Yellow Shirt
Love Y'all | Greeting Card


Love Y'all
| Heartsleeve Collection
A portion of sales from every Love Y'all shirt supports the New Orleans Loving Festival. The festival showcases films and other creative works that explore racial stereotypes and inspire people to work together for racial justice. It honors Richard and Mildred Loving, the interracial couple whose 1967 landmark civil rights lawsuit "Loving v. Virginia" ended all race-based legal restrictions on marriage in the US. The shirt's design is inspired by the Loving Festival's motto, "Love Y'all." Learn more
here
.
Love Y'all | Black & Gold Shirt
Rooted
| Heartsleeve Collection
This shirt is literally "Rooted" in Louisiana. Rooted is meant to convey the roots folks may have to Louisiana: memories, family, and places; and the homegrown produce rooted in our soil. A portion of each shirt supports Green Light New Orleans and their Free Backyard Vegetable Garden program. Green Light volunteers build free vegetable gardens for local residents who want to grow fresh food in their own backyards. Learn more
here
.
Rooted | Oatmeal Shirt
Rooted | Purple & Yellow Kid's Shirt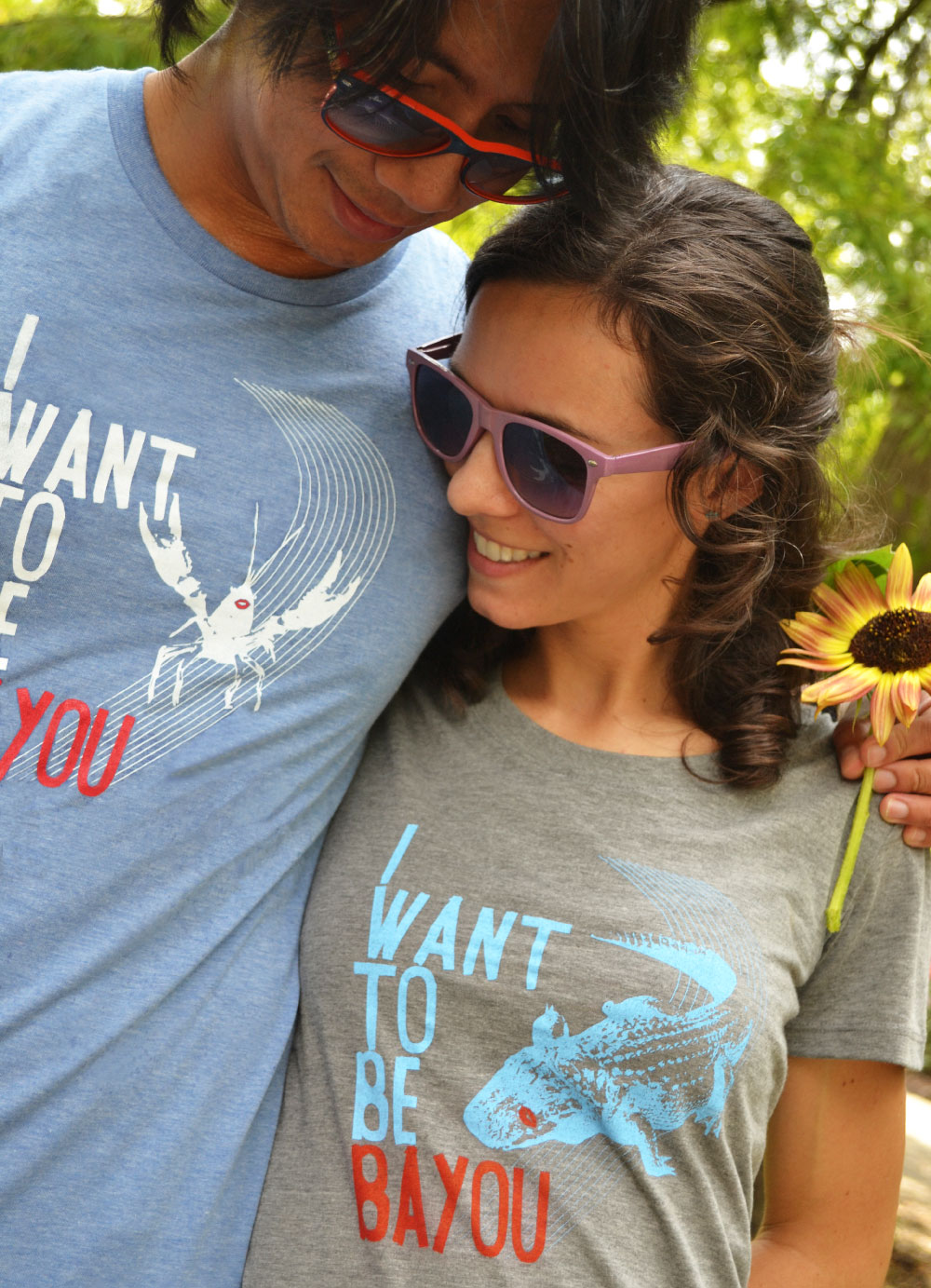 Bayou | Gator & Crawfish Shirts
Bayou | Gator Greeting Card
Bayou
| Heartsleeve Collection
A portion of sale from the Bayou shirt is donated to the Louisiana Master Naturalists. They educate and train residents about native plants and animals by taking folks to see them in person with field experts. Through this hands-on approach, the Master Naturalists have created a group of local volunteers who both understand and protect the beautiful natural spaces that we all value. Learn more
here
.
Bayou | Crawfish Baby Onesie
Pelican
| Heartsleeve Collection
A portion of sales from every Pelican shirt supports Step Up Louisiana. The members of Step Up Louisiana are committed to building political power to win education and economic justice for all. Their members step up and organize from a racial justice perspective to hold political and community leaders accountable. They work in our neighborhoods, schools, and workplaces to disrupt systemic oppression. Learn more
here
.
Pelican | Dark Grey Shirt
Pelican | Black Shirt
︎︎︎︎
Client Retail
Featured Projects
Peace Y'all
| Project Peaceful Warriors
Nonprofit Staff & Retail Apparel
Project Peaceful Warriors (PPW) provides trauma-informed yoga and mindfulness programming to schools -- equipping students and educators with tools they can use to reduce stress, combat burnout, and lead happier healthier lives. Project Peaceful Warriors wanted apparel that would communicate their core mission and brand for their staff and supporters.
Peace Yall Y'all | Shirt
Peace Yall Y'all | Shirt
Grinding
| Pulp + Grind
Coffee Shop Merch
Pulp + Grind is a popular coffee shop based in the Central Business District of New Orleans. They serve their customers local & specialty coffee, organic cold-pressed juices, and house-made pastries. Pulp + Grind wanted apparel that embodied their patrons' and company's multifaceted grinding culture.
Grinding | Shirt
About Bernie January
Designer + Educator
Co-Founder | Heartsleeve
Co-Creator | YEP Design Works
Partner | The GOOD Shop
Born a mile away from the Atchafalaya River in South Louisiana; the proud son of a big-hearted logistics oil man from Cameron, LA and a fearless, radio reporter from Yogyakarta, Indonesia.

Lives in New Orleans, LA with, the
love of his life, Natasha Noordhoff.
Additional Contacts
Heartsleeve
myheartsleeve.com
The Good Shop
1114 Josephine St.
New Orleans, LA 70130